Summary:
Filmed in Amsterdam, this Bel Ami release gives quite an international touch to the studio's portfolio. Besides the different scenery, expect some really cute and fresh American models as well!
Description: /Review
Back in August 2009, these Cocky Friends packed their bags and headed for the capital of the Netherlands, Amsterdam. Colin and Bobby couldn't wait to get to their room but, on the stairs leading up, they start to rip off each other's clothes. By the time they get to the top of the stairs Bobby has Colin's cock out of his pants and into his mouth. The boys only make it as far as the dining room table before they start to madly fuck each other - Colin laying spreadeagled on the table while Bobby thrusts in and out of his hungry hole, jerking him off at the same time. It's Bobby who loses his load first, pulling out of Colin just in time to shoot a huge wad that splashes all over the floor.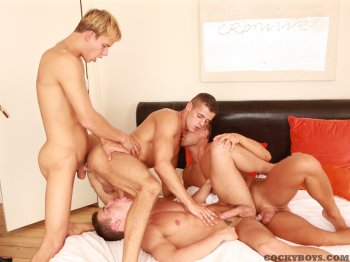 Kris and Skyler start out in the flower market and you'll see that it's Skyler stopping to smell the roses whilst Kris is just eager to get home and get a taste of a different kind of rosebud. Back at home the flower devotions don't last long as Kris whips down his pants to reveal his magnificent dick. After giving Kris' cock the devotion it so justly deserves, Skyler moves on to rimming Kris who moans in appreciation. Kris is the top for this little affair as he shows his buddy what can be done with a hot Hungarian sausage when he takes him every which way over the back of the sofa.
Bobby picks up Milo and Elijah while they are out on their tandem bike. Bobby tempts them away from their bicycle pleasures with the promise of a foot massage. The foot massage doesn't amount to much, but the twins have other things on their mind right from the beginning - namely spit roasting Bobby. As Milo and Elijah take turns in blowing Bobby he seems to be in seventh heaven moving on to eighth only when he takes Milo in his mouth while Elijah continues to blow him. These twins really turn into cum hounds as they plough cute Bobby!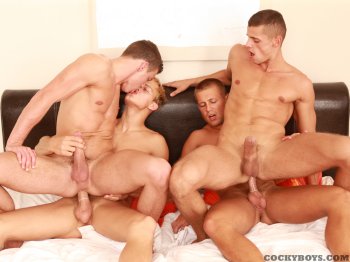 Todd had been asked to look after Jesse for the afternoon and they start out in a coffee shop for a beer and a bit of a smoke. Jesse suggests that he has something better than a joint for Todd to suck on and, not needing a better invitation, the boys are back home and going for it with an urgency and hunger that only two horny young guys can show. Todd revels in showing off his deep-thoating skills with Jesse the lucky recipient before hungrily taking care of Todd's hole. The kitchen bench is the scene for the fuckfest that follows with Jesse driving his big hard cock deep inside Todd.
Florian and Skyler enjoy a shopping trip but it's not long before these twinks are hard at it. Both guys are eager to impress each other in the blowjob stakes, but it is when Florian starts to finger Skylers hole that we learn the true dynamics here. Florian is loosening up Skyler, but obviously not fast enough as Skyler instructs his mate to stick in more fingers! Of course Florian knows something much better than fingers to shove in Skyler's now amply stretched hole.
Finally, Luke and Jesse are back together again and, to add a bit of variety, Manuel and Bobby are up for a good time! This foursome soon become a tangle of hot and almost perfect bodies in which it's hard to follow who is fucking who. It seems that Luke gets to fuck almost everyone, and Manuel manages to get fucked by almost everyone. Jesse certainly gets to suck everyone and Bobby gets sucked by all. The climax is a veritable cum batch, with semen flying everywhere - onto Jesse's chest, into his mouth. Manuel even manages to lap a load as well.